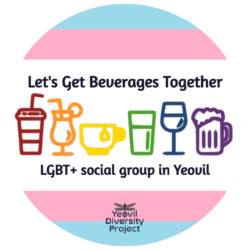 We are now running an LGBT+ social night once a month in Yeovil, as part of our ongoing #QueerAllYear campaign. "Let's Get Beverages Together" is a friendly, informal meet up every third Tuesday of the month. It's important for people to have a safe space where they can connect with other people who have similar experiences. The LGBT+ community is a spectrum and no two of us are the same, but it's great to come together and be your authentic selves in a supportive and welcoming environment.
If you would like to come along, please click here to be taken to the sign up page.
Below are some FAQs that have come up in conversations so far, but if you have any questions that aren't answered below please feel free to get in touch with us.
Are under 18s allowed?
This is an evening meet up, usually at a venue that sells alcoholic drinks, and is therefore for over 18s only. We might consider running occasional dedicated under-18s socials in the future if there is call for it among the young people in our area, where we might get Breakfast or Brunch together instead during the day time. Please get in touch if you or someone you know would benefit from this.
Are allies allowed?
Yes. By welcoming allies to the table, we also make space for any closeted LGBT+ people to join us without fear of being outed. However, we do remind attending allies that this social meet up exists for the empowerment and benefit of LGBT+ people, and politely request that they practise good allyship. If you're not sure what that means, the internet is your friend and this article is a great place to start.
Why do I have to give my email address?
If you are interested in joining us, we ask that you sign up here with your name and contact details so we can provide venue and joining details. This isn't a membership club and there is no cost to signing up, but we are still living in difficult times and sometimes venues have to close at short notice due to staffing or even stock-level issues. We'll use the information you provide to remind you when our meet ups are, and let you know if we have to cancel or change venue on the day.