Well, let's start with what didn't happen. As our final Pride Month event of 2022, our original intention was to visit Queer Britain, the UK's first national LGBT+ museum. However they announced on their social media that, due to the tube and rail strikes taking place, it would be shut for a period of time – including the day we were due to visit (25th June). With our planned trip just days away we were determined not to let the day go to waste, so we put some other ideas into action.
After the coach arrived a little late from Yeovil, we made our way to Gay's The Word. This independent bookshop is over 43 years old, having been started in January 1979. Several gay socialists came together with the idea of creating a community space from which all profits would be fed back into the business. More than four decades later, the small shop on Marchmont Street remains a hub of community activity with several groups using the space regularly for events. As well as an important provider of LGBT+ resources for teachers, librarians, and academics, Gay's The Word continues to exude that authentic charm that attracts bookworms of all walks of life, from near and far. Indeed, our lovely-sized group of Somerset folk had travelled about 130 miles to be there!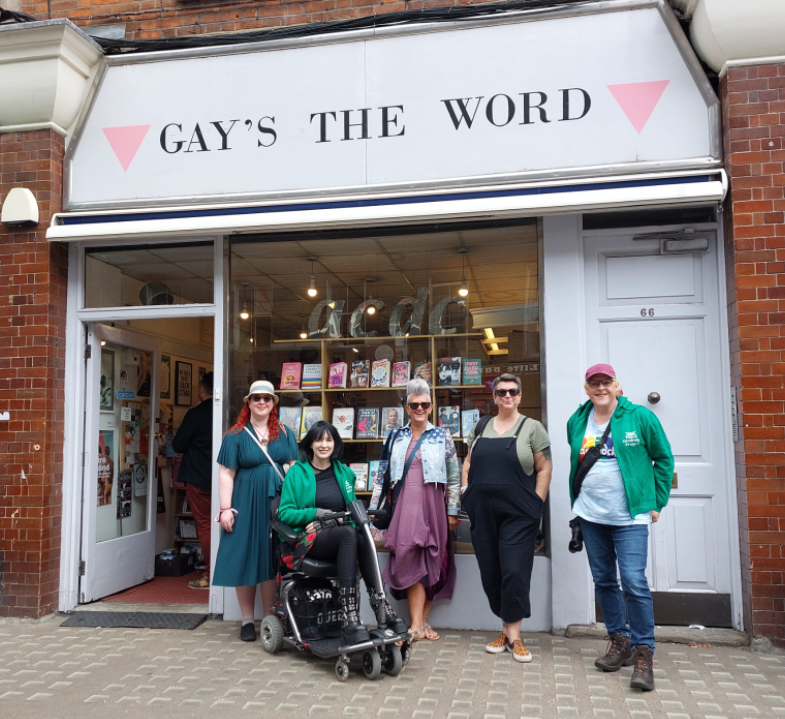 The shop was busy and had a great atmosphere, with snapshots of its history filling almost every available space that wasn't taken up with LGBT+ books of all genres. Jem, who was staffing the shop that day, was a delight to talk to and very knowledgeable. Many purchases were made, with several of us keen to return very soon!
At this point the group split up with some people heading off to Soho straight away, while others went to explore the British Library and have something to eat. We were pleased to see the British Library flying a version of the progress flag and even Pizza Express, where a few of us chose to stop for lunch, had rainbow flag bunting in the window for everyone to see.
We then ventured to Soho, often thought of as the gay capital of the capital for the next part of our visit. Soho is home to many LGBT+ shops and venues such as G-A-Y, Village and Comptons.
A particularly poignant landmark that we chose to add to our itinerary was the Admiral Duncan. One of Soho's oldest gay pubs, it was bombed by a neo-Nazi in 1999. The attack took the lives of three people, with a further 83 being injured. In a cruel and sobering instance of coincidence, our visit there was the same day as the horrific attack in Norway in which two people lost their lives and many more were injured at the 'London Pub'; a longstanding hub of Oslo's LGBT+ scene. 23 years later and for all the progress made we are still unsafe and a target of violence – for simply being who we are.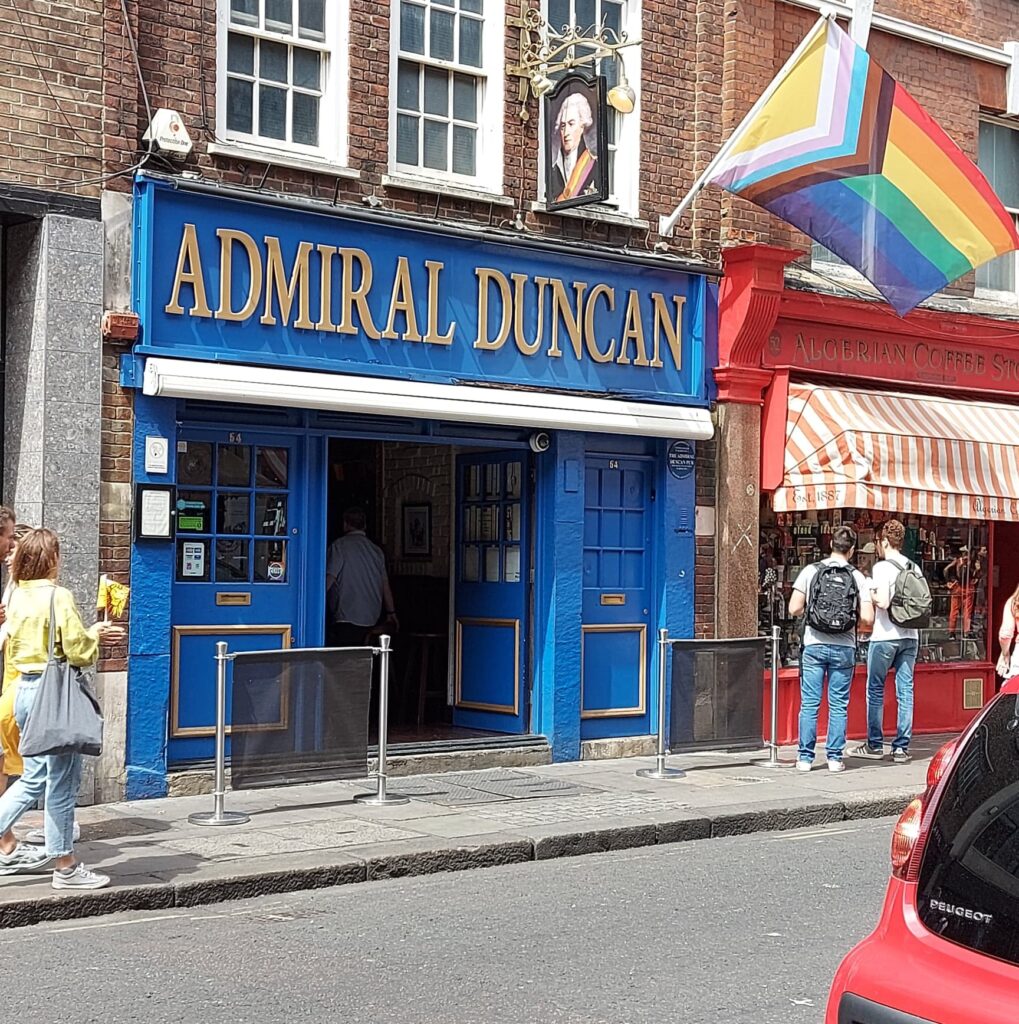 Not far from the Admiral Duncan, we stumbled upon a Ben & Jerry's. The brand is no stranger to progressive values and has always been forthright about its politics, with a long record of supporting causes including LGBT+ rights. The call of the rainbow-themed tasty treats was hard to resist… So we didn't.
And having walked around and taken in some more of the Soho sights, it was time to think about heading back to the coach station; we were only day-tripping after all. As we headed that way we were treated to what almost felt like our own mini Pride parade, as we just so happened to be along the route of IBikeLondon's Pride Ride 2022! There were plenty of classic tunes booming from their fleet of Disco Bikes, Pride flags of all shapes and sizes, and smiles and cheers from everyone around as they brought their epic bike party to the streets of London. We managed to catch a quick clip of them as they waited at some traffic lights:
It was a lovely end to a lovely day, spent with lovely people! Keep an eye out on Facebook where we will be posting a full gallery from our time in London with all the places we went and things we saw. We will embark on another #BigGayDayOut next year and we hope you might consider joining us for a fun day out with other people from Yeovil's LGBT+ community.